I'm just now getting around to installing Visual Studio .NET 2003 Enterprise Architect on my new Vista workstation at the office.  I haven't been worried about this too much, because I have this setup working at home without problem.
But of course, I ran into a snag here.  When I ran the setup, it highlighted the Pre-requisites task as the only available step.  Then when that opened up, I got this lovely message: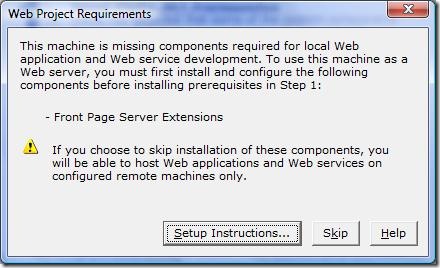 I tried a few things to get past this, including installing the FrontPage 2002 Server Extensions for IIS 7 (RC1).  But I kept getting the same error.
All I needed to do was to run the Pre-requisites as a standalone installation instead of through the VS.NET installer.  After doing that, I can fire right into the VS.NET installation without any warnings or errors.  The installation hasn't finished yet though, so I'm keeping my fingers crossed.